1.Sabarmati Ashram-Tourist Places in Ahmedabad
2.ISKCON Temple
3.Jama Masjid
4.Sardar Vallabh Bhai Patel National Museum
5.Swaminarayan Temple
6.Calico Museum of Textiles
7.Kankaria Zoo
8.Nagina Wadi
9.Jhulta Minar
10.Open Air Theatre
10 Best Tourist Places in Ahmedabad
Ahmadabad city of Gujarat is an epitome of diversity enriched with the beauty and culture of India. This city is glimpses of everything that starts from incredible heritage and ends on handmade merchandise. Enriched with both tradition and modernism, this city has become a point of attraction for a number of tourists because of their varied interests here. Here is a list of best tourist places in Ahmadabad that would definitely help all the wanderlusts to plan their next trip.
1.Sabarmati Ashram
If you are looking for peace and calmness, Sabarmati Ashram is the place for you. It is also famous from the other names like Satyagraha Ashram, Gandhi Ashram and Harijan Ashram. It was constructed by the Mahatma Gandhi after returning from South Africa in 1915 on the banks of the Sabarmati River in Gujarat. He used to do work associated with agriculture, Khadi Udyog and animal husbandry here.
This Ashram depicts the lifestyle of Mahatma Gandhi including both his success and failure during the attempts to develop India, due to which it has become the first sight of attraction for tourists in Ahmadabad. It also tells about the family of Mahatma Gandhi, his wife, his parents and his way of leading a successful life.
Opening Hours: Everyday, 8:30 AM to 6:30 PM
Entry: Free
Location: Gandhi Smarak Sangrahalaya, Ashram Road, Ahmadabad.
2.ISKCON Temple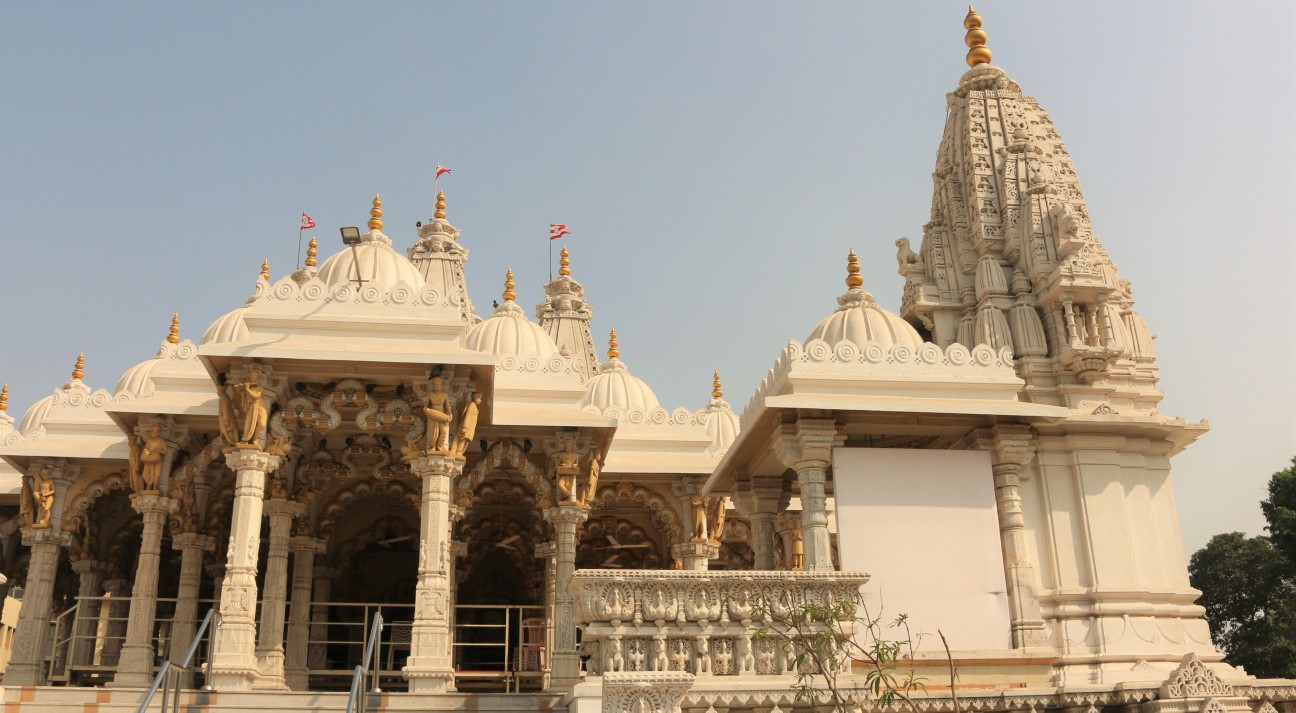 The divine temple of ISKCON is also by the name "Hare Krishna Mandir" and devotees come here from all around the world to seek the blessings of Lord Krishna. This temple is one of the must visit places in Ahmadabad, situated on a large 4 acre land full of flowers and gorgeous greenery. This temple has a calm and refreshing environment that is soothing for both mind as well as soul. This temple is mainly dedicated to "Radha and Krishna" but also has the idols of other gods in Hindu mythology. The Architecture of this temple is incredible and remains always filled with the divine chanting of "Hare Rama Hare Krishna".
Opening Hours : Everyday, 4:30 AM to 1 PM and 4 PM to 9 PM.
Entry: Free
Location: Sarkhej – Gandhinagar Hwy, near BRTS Bus Stop, Satellite, Ahmedabad, Gujarat 380059
3.Jama Masjid
Jama Masjid is one of the most amazing sites to visit in Ahmadabad. This majestic mosque was built in 1424 by the Sultan Ahmed Shah and carries a large history in different eras of time. Its beauty and architecture are remarked as the highest watermarked design in western India. You can visit here for historical photo shoot and sightseeing. Don't miss to grab the sight of yellow sandstone architecture at the courtyard which is a perfect blend of Muslim and Hindu styles. Also, it is surrounded by the calm greenery that soothes the mind and soul.
Opening Hours: All days of week, 6 AM to 8 PM. (Mosque doors remain closed during praying times for visitors).
Entry: Free
Location: Manek Chowk, Gandhi Rd, Danapidth, Khadia, Ahmedabad, Gujarat 380001
4.Sardar Vallabh Bhai Patel National Museum
This museum was built between the years 1618 to 1622. At first it was used as the governor's residence and converted later into the museum by Shri Babubhai Jashbhai Patel, CM of Gujarat, as the remembrance mark of our beloved Prime Minister Sardar Vallabh Bhai Patel. It depicts a brief history about our dearest leader Sardar Patel including his achievements, thoughts and lifestyle. 3D interactive shows also happen here to give a great presentation to the visitors on the life work of Sardar Patel.
Opening hours: Tuesday to Sunday from 9:30 AM to 5:00 PM. Timing for 3D interactive show is from 7:00 PM to 7:45 PM.
Entry fee: INR 20 per person.
Location: Gandhi-Sardar Smruthi Chowk, opp. Circuit House, Shahibag, Ahmedabad, Gujarat 380004
5.Swaminarayan Temple
Swaminarayan Temple, the crucial wonder of India is a remarkable example of incredible architecture and jaw dropping styles. The milky white buildings of this temple hold the glory of Indian tradition and culture. It is also worth mentioning for its detailed carvings that make it one of the best temples in Ahmadabad. The calming and soothing environment of this temple attracts a lot of visitors.
Opening hours: All days of week, 6 AM to 7 PM
Entry fee: Free
Location: Swaminarayan Mandir Road, Old City, Kalupur, Ahmedabad, Gujarat 380001
6.Calico Museum of Textiles
Calico Museum is one of the oldest museums in the country dedicated to textiles.  It is managed by the Sarabhai Foundation and famous for its versatile range of unique and incredible textiles that holds the glory and history of India and its culture. It offers a mesmerizing collection of fabrics, artifacts and textiles, eye catching Kashmiri shawls, rare and antique textiles, dyed fabrics and many more.  Various art items can also be seen here such as Indian miniature paintings, Jain art items, Pichwai paintings, handicraft, and tribal arts.
Opening hours: opens every day except Wednesday from 10 AM to 12:30 PM and 2:45 PM to 4:30 PM
Entry: Free
Location: The Retreat, Airport Rd, Opp. Rani Sati Mandir, Jain Colony, Shahibag, Ahmedabad, Gujarat 380004
7.Kankaria Zoo
Kankaria Zoo was established in 1951 on the banks of kankaria lake and also known by the name Kamla Nehru Zoological Garden. This zoo is the best tourist place to visit with family and kids. Here you can see rare and endangered species of birds, alligators and crocodiles, Butterfly Park, Nagin Vadi, Rasala Nature Park, NH Museum, Balvatika and Water Park, Nocturnal Animal House. This zoo is equipped with the utmost safety for visitors especially kids. Here you can explore various new species while going on a memorable and thrilling experience.
Opening hours: This zoo has different timings for different seasons. From March to October it opens from 9 AM to 6:15 PM and the timing from November to February is 9 AM to 5 PM.
Entry fee: INR 20 per person. Entry for educational tours is free on every Thursday.
Location: Maninagar, Ahmedabad, Gujarat
8.Nagina Wadi
It is a garden themed amusement park located in the heart of Kankaria Lake. It is surrounded by the pathway of straight lined green trees. Water of this lake is clean and serene. This place has a soft calmness that will definitely give you peace of mind. It also has multiple food stalls where you can have taste of the street food of Ahmadabad. This place is perfect to spend quality time with your loved ones.
Opening hours: 9 AM to 11 PM
Entry: Free
Location: Nr.Kankaria Lake, Front Gate No.6, Gujarat 380002
9.Jhulta Minar
Jhulta minar is famous for its unsolvable mystery. It has one of the most intriguing architectures of all time that can easily fascinate any visitor. This place has a mystery revolving around it from the historical time that if one of the minaret is shaken by anybody, the other minarets also start shaking on their own after a few seconds. The Mystery arises from the point that no connecting passage is found between the minarets that could transfer the vibration to facilitate the movement in other minarets.
Opening hours: 5:30 AM – 9 PM
Entry: Free
Location: Kalupur Road Sarangpur, Laxmi Bazar, Ahmedabad, Gujarat 380002
10.Open Air Theatre
Open Air Theatre is a unique cinema hall that allows you to watch a movie under the open sky of shining stars. Here you can spend quality time with your loved ones and have a unique admiring experience. It also has stalls where you can eat and enjoy your movie. This Open Air Theatre will surely give you a night that you will remember lifelong. It is one of the most amazing places to visit in Ahmadabad at night.
Opening hours: Everyday
Entry: As per the price of movie ticket.
Location: Sunset Drive in Cinema, Drive In Road, Ahmedabad 380054, Gujarat.